Ability Office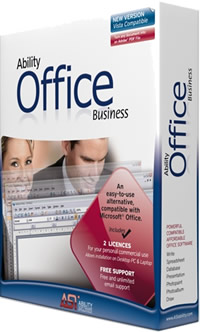 Ability Office Business offers a number of fully featured applications, specifically designed for the needs of businesses everywhere.
Get straight to work with a completely familiar user interface that requires absolutely no retraining. Load from and save to standard document and image file formats.
Write – MS Word® compatible word processing
Gives you everything you need to create, edit and produce better-looking letters, reports, quotations, memos, mailings and newsletters. Write has all the features that you would expect from any top quality word processor – spell checker and thesaurus, bulleted and numbered lists, frames, tables, autocorrect, autospell, headers and footers, numerous paragraph and font options, interactive rulers, intelligent drag and drop editing, short-cut menus for easy text revision, the capacity to include graphics, spreadsheets and charts, plus a whole host of other essential features. Write also supports a wide range of file formats for export and import.
Spreadsheet – MS Excel® compatible spreadsheet
The perfect tool for managing all your numerical data, whether business information, home finances, complicated calculations or homework problems. To help you make sense of your figures, Ability incorporates all the essential elements users need from a spreadsheet program, as well as a range of advanced features – such as pivot tables and macros – to make working with numerical data as easy and clear as possible.
Database – MS Access® compatible database
A powerful data management system that is perfect for storing and analysing structured data or information, including address books, inventories, customer and product lists, medical records, and any other data that can be usefully tabulated.
Presentation – MS Powerpoint® compatible slideshow presentation
The ideal application for creating professional slideshow presentations, with a wide range of visual and text effects ensuring that your message is delivered with maximum impact. Make your presentations as simple or as sophisticated as you need with the combination of Ability's familiar design interface and rich creative feature set enabling production of the highest quality presentations.
One Click PDF Creation
As a major added benefit, universally accepted Adobe® PDF files can be created with one click from within all relevant applications, allowing secure delivery of original documents and making it quick and easy to publish documents online.