Diamond Discovery Accounting Software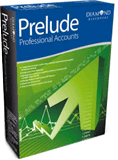 Prelude Professional Accounts has start-up and micro businesses in mind, providing flexible, easy-to-use accounting software that can be seamlessly upgraded as the business grows.
The package can be used with no training; guided by the integrated Help file, invoices can be produced with automatic product pricing and VAT-inclusive options. The package offers real-time integrated accounting; all information is instantaneously updated as new data is entered. This ensures that essential information, such as bank balances and VAT, are always up to date.
Here is a detailed specification of Prelude Professional Accounts:
Create/email sales invoices, credit notes, statements and supplier remittance advices
Design your own stationery
Manage you customers, suppliers, products and services with a simple import facility
Manage Bank and Credit Control, VAT Returns
Preset chart of accounts
Easy-to-read preset reports (33 in total)
Sales & Purchase Daybooks
Real-time Integrated Accounting
Multiple Bank Accounts
Bank Reconciliation
Petty Cash and Cash Sales
Period Accounting with full Audit Trail
At-a-Glance account balances
Sales and Purchase Ledger with Full History
Data and Document Export
Diamond Accounts, Business and Commercial
As your business grows, it is likely that more features and powerful tracking functions will be required. Diamond Online makes it easy to upgrade, or even downgrade after you've tried a module for a while.
Some of the additional features include:
Multi-user accounts access
Sales Order Processing
Purchase Order Processing
Advanced stock management
Sales desk EPOS
Advanced report generator
Any of these features can be added to a Diamond Online account, so log in to your account to review the various upgrades available.